FPO. – First Press Only – Rosin Sauce Vape Cartridges
Limited quantity – act fast.
Love the convenience of vaping THC oil but wish the effects were the same as smoking a joint?
Combusted plant material contains a multitude of compounds that are harmful to your health. By vaping, you reduce your exposure to these compounds but also the full effects of a regular joint. THC Oil and distillates just don't cut it. The effects aren't the same and neither is the taste. There's something missing there……
Rosin is fast becoming the concentrate of choice by cannasieurs who appreciates its solvent free extraction and likeness in effects from smoking flower. We at FPO. have solved the problem for those of us that truly love the highs from a classic joint, but without the smoke. Our team of dedicated, passionate people have developed a formula that takes the rosin experience to the convenience of a vapourizer. Just like flower, the love you give will determine how good that joint you rolled is, so why shouldn't your vaping experience be the same?
Each 0.5ml filled AVD Glass Cartridge contains a mix of hand-pressed flower rosin, THC distillate and organic terpenes.
For a solvent free vape experience, we are the answer.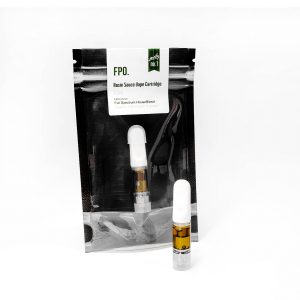 We pair our amazing blends with AVD cartridges. They are composed of a proprietary ceramic core, durable boro-silicate glass, and non-toxic lead free materials.
When it comes to vapour technology, AVD is at the top of the game. These high performance cartridges works with universal 510 thread as well as other compatible batteries.