LIMITED TIME ONLY !
REFER A FRIEND PROMO IS UPDATED !
on top of our Give $25 Get $25 deal, you will also get a free 14g and a pack of edibles in your next order when you refer a friend !
Use Bhang20 for 20% off regular priced items
(code will not work April 1-30 due to Sales , restrictions apply, check under promotions)

Subscribe to get notified when we have 2x or 3x the points !
Orders over $200 receives the Original Logo Sticker.
NEW SPECIAL COLLECTIBLE STICKER NOW AVAILABLE !
Given on orders over $350( collect 5 and redeem for $150 store credit)

Collect your Original Logo Stickers for Special OunceTrade.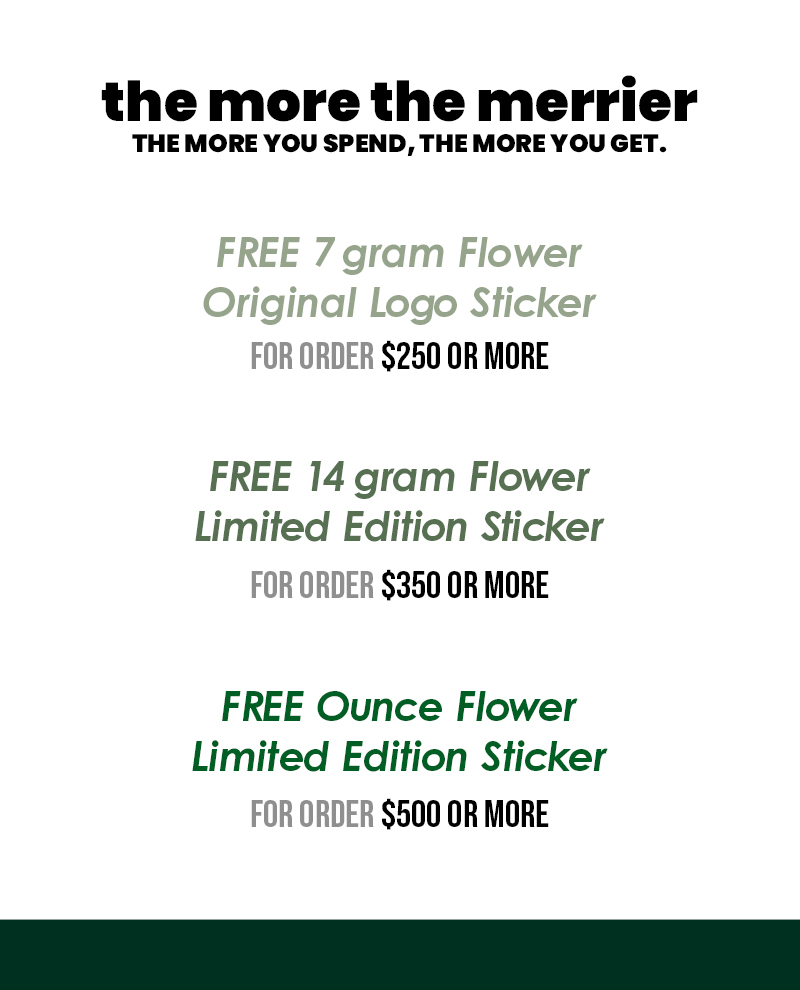 Feature Deals
Cannabis Joints 14 x 1.0 g Nicely Rolled Cannabis Joints Comes in Indica, Hybrid and Sativa packs. Lazy to roll a joint? Don't worry, you ain't the only one, or simply don't have time to grind and roll, these are great for on the go.
CLEARANCE LAST CHANCE DEAL & Specials
Indica Dom. Created through crossing the classic Gelato #41 with the infamous Dosido. Effect: Calming in nature, with effects that will leave you dazed and peaceful. The high starts with a lifted effect that fills your mind with deep cerebral relaxation before spreading its warming tendrils throughout the rest of your body. You'll feel euphoric and totally at ease, without any mental or physical aches or pains to speak of. Use for: Chronic pain, depression, insomnia, chronic fatigue, and muscle spasms or cramps. Taste: Sweet berry pine flavor with a light spicy exhale that's slightly earthy. The aroma is very sweet and earthy with a spicy musky overtone that's accented by fresh pine.
NEW ARRIVALS
Bliss Party Mix THC Gummies Edibles
is your fast-track ticket to a fiesta. Infused with THC and crafted for a juicy delight in every bite, you can kick back, relax, and remember the good times with these Party Mix gummies. Flavours include
Green Apple, Juicy Grape, and Peach.
Each package comes with
15 pieces of cannabis infused gummies
(25mg THC per gummy) for a
total of 375mg THC per tin can
.
15 pieces of cannabis-infused gummies
Each piece contains 20mg of THC
Package contains a total of 375mg THC
Flavours include Green Apple, Juicy Grape, and Peach
Sweet Escape Gummies – 1080mg Close your eyes and imagine what your own getaway looks like. Our Sweet Escapes is
Daydream Gummies – 1080mg Don't schedule your day to be busy, schedule it to be fun with our 1080mg THC
Albino Zilla
Magic Mushroom Albino Zilla are known to be average to above average in potency. These well-rounded magic mushrooms are known for their all-around buzz that affects users mentally and visually, as well as for their extreme potency. Many users revere this shroom strain or shroom edibles for its heavy-hitting effects and quick-acting high which can be felt as soon as 15-30 minutes after digestion
Texas Penis Envy 5000mg Microdoser Capsules 10 Capsules 500mg (0.5g) each Total 5000mg Reach for higher levels of creativity,
10 Capsules 500mg (0.5g) each Total 5000mg
10 Capsules 500mg (0.5g) each Total 5000mg Comes in bags now!
Willo 500mg Mix & Match Day/Night 4 units for just $125 !
Best Online Dispensary in Canada
No more a taboo, weed is now music to ears. Yes, it is, especially if you happen to be either a cannabis supporter-admirer-lover or a doctor or a kin-of-a-patient of persons suffering from diseases needing more than just conventional treatment. Weed is now understood to be more than a recreational substance. It is now being accepted as a healing agent. Weed has come a long way.
Many ask – Are weed and marijuana the same?
They are. In the cannabis-counter culture, weed and marijuana are the same. The two names are used interchangeably. The other colloquial names doing the rounds are pot, dope, grass etc. Both weed and marijuana come from cannabis plants. The reason that weed has been tickling the imagination of mankind since ancient times is that you can smoke, vape, drink, or eat it. Whatever you do, weed brings you joy and peace. But recently a growing number of medical practitioners are leveraging its potent properties for relieving many medical conditions and symptoms.
It is but natural that weed has very recently and quickly joined mainstream consciousness in Canada. In fact, the passage of the Cannabis Act, 2018 has proved to be a watershed moment in the history of weed.
It is now readily available. Online weed dispensary, bulk weed online Canada, weed dispensary online, and many such keywords are driving weed buyers' quest to search and order their weed supplies on the Internet. Buyers are ordering their lot of pot from online weed stores and online weed dispensaries operating in your neighborhood in Deh Cho or Dehcho, Inuvik, Alberta, and most of the regions and provinces of Canada. Thanks to the Cannabis Act, weed can now be legally purchased all across Canada. So, whether you are in Manitoba or Nunavut, Saskatchewan, Alberta, or Inuvik you can lay your hands on this marvel of mother nature.
Why is weed a marvel of mother nature?
If you are new to the world of psychoactive weed, this question will naturally arise just as the yeast-infused batter in the oven. Or the body rushes when you ingest weed edibles.
Weed naturally possess chemicals that have a truly wonderful effect on our body and mind. Ancient societies used them for spiritual purposes while seeking a mystical union with the supreme being. We now have a proven and valid scientific explanation for consciousness-expanding inexplicable experiences induced by weed.
Weed by nature produces close to 500 chemical substances; THC (delta9-tetrahydrocannabinol) is the most notable of all psychoactive chemicals found in weed. This chemical compound in particular is known to produce psychoactive effects. These psychoactive effects help relieve not only pain, anxiety but also aid in sleeping better. In fact, these are only a few benefits outlined here. There are plenty of others including a reduction in nausea, stress, depression, improvement in appetite, etc. And many more remain to be identified and validated.
Here are two glaring examples of how weed is making strong inroads into treating diseases.
Epidoloex is an oral solution of cannabidiol (CBD) having no more than 0.1% THC. It is an approved drug to treat two chronic epilepsy conditions – Dravet syndrome and Lennox-Gestaut syndrome. Otherwise, Epidoloex is a Schedule V drug under the Controlled Substances Act.
Similarly, Syndros is an oral solution having THC that is an approved treatment drug for anorexia associated with weight loss in patients responding poorly to conventional antiemetic treatments. Syndros too otherwise fall under the Controlled Substances Act.
Weed is now legal in Canada
As per the landmark legislation, an adult can purchase legal weed, weed products, seeds, and plants from authorized retailers. So, if you are an adult residing in the province of Alberta, you can purchase weed either from an online weed dispensary or a local shop. You can buy weed in bulk from an authorized reseller in Alberta. Online dispensaries ship to anywhere in Canada, in Alberta, Dehcho, Manitoba, and as far as Inuvik. The same is true for online weed stores in Saskatchewan, online weed dispensaries in Nunavut, online weed dispensaries in Manitoba, and several other regions and provinces in Canada. It is much easier, convenient, and most importantly safer to buy weed in bulk or smaller quantities in Canada than prior to 2018.
Count yourself lucky. Of course, thanks to the weed renaissance sweeping the political galleries in Canada ushering in a new era.
Weed is now one of the most widely used substances in Canada. It is reported that almost half of Canadians are reported to have used it at some time in their lives.
Weed is versatile.
People love weed because it is versatile. It pleases people in their unique ways. Some eat it. Some vape it. Others simply smoke it. For those of you who crave weed but equally crave discreteness consume it by drinking it or lacing it into the drinks and dishes they cook. Weed edibles or cannabis edibles are a rage too, especially among our womenfolk.
It goes equally well with showboats, wallflowers, and shrinking violets.
Weed is a party-plant
When you want to throw a party or find yourself in one, you can trust weed to liven up the whole evening for you. Explore new dimensions of joy, excitement, and fun with it. Weed has the quality that it can release the party-lover in you and let you do and enjoy a party as you always wanted to. However, if you are a self-confessed party-animal expect the excitement levels to touch new highs.
Order your weed online directly from the best online dispensaries in Canada. Get your weed delivered to your doorsteps. So, whether you are having a backyard BBQ or a beach party; getting your weed is easy. Type in best-ounce deals on weed on the Internet. Add your city or province name to narrow your search. For example, you can type best ounce deals in Inuvik or best online dispensary Deh Cho or Dehcho and get a list of best online dispensaries to buy weed from. Choose an online dispensary, select, order stock up and enjoy.
Weed is the comforter of the afflicted
Weed; based on the mounting evidence of it being a healer, is slowly but surely becoming a part of treatment plans.
Weed interacts with our Endocannabinoid System (ECS). Both THC and CBD stimulate the ECS which affects our sleep, appetite, pain-pathways, pleasure-zones, libido, immune response, and many other important functions of our body.
People suffering from difficult-to-deal diseases are turning to weed for relief and comfort. This has been especially important in light of the crisis of opioid abuse increasing at an alarming rate.
Weed is increasingly seen and understood as an option to conventional opioid-based treatment.
Weed is an online sensation
Weed has found a powerful distribution system – the Internet. Weed is increasingly sold and purchased through online dispensaries across Canada. Online dispensaries are mushrooming. Need to buy weed online? Fire up your laptop, type best online dispensary Canada and viola you have a list of online dispensaries across all provinces selling quality weed. You can buy weed in ounces. There are best-ounce deals on weed available. Make use of them. You can save some dough for more weed.
Wherever you may be if you need to buy weed in bulk or small quantities such as ounces, turn to google. The keywords are specific words by which you need to search and locate local dispensaries in different locations.
For example, if you are in Nunavut, type the best online dispensary Nunavut. Similarly, if you are in Inuvik, type the best online dispensary Inuvik. You can do the same for locating online weed dispensaries in Dehcho, Alberta, Saskatchewan, and Manitoba.
Now, there is nothing holding you back in embracing this Jim-Dandy of a plant that promises peace and pleasure. Medical fraternity acknowledges its efficacy, friends, peers, and next-door neighbors approve of it. And, it is readily available. Shop online or walk into your local dispensary or a licensed store. Weed is the ticket to the new promised land. So, blow away the cobwebs. The world is at your fingertips.
Why choose us?
We put the BHANG in your buck.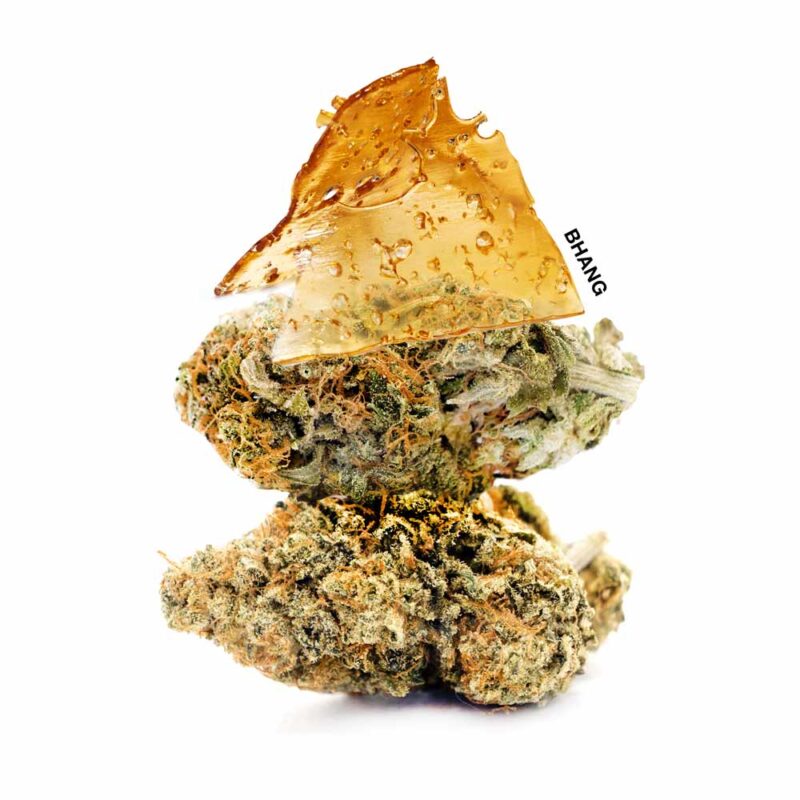 We trust and hope you and your loved ones are safe and healthy and continue to be, this is a interesting and sca...
Welcome to the home of the dankest BHANG
Shop potent cannabis flowers and cannabis products! We offer edibles that taste great, smoothest local BC shatter, premium small batch extracts, 100% solvent-less high pressure pressed rosin, high quality accessories that lasts, smoothest rolling paper and much more!
Shop with us.

We update and refresh our menu frequently to keep the small batch quality in check.

Our customers trust is important to us so we thought "What better way to gain trust than standing behind our well curated products"? You will be purchasing at ease as we inhouse test the potency of our products. If it's not good enough for us, it's not good enough for YOU !
Your orders will have better shelf life, quality assurance, you wont find seeds, or bugs, or dog hair, or stemy cannabis nugs. (honestly no one should be worried about it, but hey it happens and we understand)
Not your average mom, so what makes us unique?
We are a conscious boutique cannabis store that believes in the health benefits of Cannabis that helps people. Carrying a smaller inventory betters quality control. Our mission is to meticulously select products for our menu so that you don't have to go anywhere! Just approach us to shop the Best Quality Ounces and Cannabis Products at great prices.
Here at BHANG-BHANG, we feel that Cannabis Edibles in Canada can be very easy to get a hold of these days, however the saturation of the market has caused wave of loss in quality. Every dispensary is claiming to be premium, but often times its a hit or miss, stemy buds, bud rot, bad after taste in concentrate, or cheap quality accessories that break in a week. Don't waste your money or break your bank by trying different things just to see if it's good or decent, we understand the frustration. This is why at BHANG-BHANG.COM, we provide the Best Ounce Deals and carry Edible Cannabis Products that we hand selected, tested and approved first.
We as cannabis connoisseurs for over 10 years, it gets tiring scrolling through pages and pages of Microdosing Shrooms & other products and even trying different sites when one does not live up to standards.
What we are doing here is simplifying your life for you by having already picked out some of the best products in each category, be it Magic Mushrooms or Cannabis edibles product! We keep our inventory small as that is the only way to provide the freshest products to our customers.
What our Customers say
Great price and it's not no low quality stuff, seams fresh like all other of there products for a great price. Happy with my order and will be buying more!
This is some fire bud it's nose 10/10 bag appeal 8/10smoke is nice and thick great nighttime smoke a real heavy hitter thanks keep up gthe great job bhang-bhang !!!
Amazing people. Fast response. Fast shipping. Threw in lots of extra stuff for me to try and the weed isn't dry. It tastes great and puts my girlfriend right to bed so I can play call of duty un bothered.